Kathleen Ellis: Writer and Communications Coach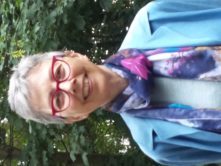 I started Alchemy to help people bring their best selves to the world. There are too many boring business books, incomprehensible academic articles, and dull workshops. It doesn't have to be that way!
We all have our gifts that we bring to our work. Mine just happens to be making sure your voice, your expertise shines.
My experience ranges from corporate to academic to nonprofit. Here's what I've learned:
Clarity & accuracy + powerful storytelling + being absolutely clear on "what's in it for your reader/listener" = communication that actually matters. And sells!
Yale University Communications Coach

In addition to my work with Alchemy, for more than 10 years I've worked with graduate and PhD students at Yale University to become more powerful communicators.
As a coach at the School of Management and School of the Environment, I worked with students from all over the world on academic papers, public speaking, PowerPoint presentation, media training, job interviews, resumes, and cover letters.
I've helped prepare Yale School of Economics Ph.D. candidates for job talk presentations and interviews, and I've conducted workshops in public speaking, presentation skills, and email writing for business.
Business Consultant: A Focus on What's Important

As any good executive or entrepreneur knows, business is both art and science. In addition to running my own business, I was a partner in a business consulting company specializing in communications and staff development. I've worked one-on-one with business owners and led trainings in leadership styles, interpersonal communication, teambuilding, conflict management, performance appraisal systems, time management, and business writing.
Actor: What's Your Story?

In my work with writing and presentation skills I draw deeply on my training in theater. As a student of acting in New York City, I performed in a number of productions there. And in my years in academia and the business world I became convinced that every presentation or written document is part theater—drawing the audience in with a compelling story and then delivering the goods.
But you don't have to be an actor to be an effective communicator! I'll work with you to identify your unique strengths and weaknesses and learn strategies to minimize what doesn't work while enhancing what does. Most importantly, I'll help you become comfortable being in front of a group or your computer screen. Imagine your career accelerating when you have the skills and confidence to be a dynamic speaker or writer!
I'd love to help you transform how you present yourself, whether in writing or talking. Contact me today for more information.